Spring clean-up time is not just for houses. After long winter seasons of packing everything into your car you might need for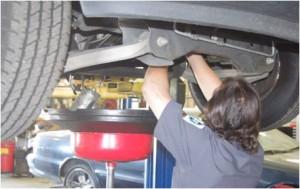 break-downs and rough weather, cars need cleaning, organizing, and tuning up, more than anything.
The latter half of the year season can be difficult on your vehicle. In the fall and winter, you tend to use a lot more fluids, such as windshield wiper fluid, oil, and anti-freeze. A total check-up on all your fluids is a good idea after winter ends, to start the spring season off with a fresh new start.
Spring-cleaning for the interior of the vehicle should include:
Organizing and cleaning out the items in your car. Many items, like umbrellas, blankets for the cold, and items leftover for winter emergencies should be removed and stored in the home or garage.
A good vacuum and interior detailing job is a great way to freshen up your car and get rid of any leftover debris and winter smells, in carpets and seats.
Make sure that all floor mats, rugs, and the trunk area are clean. Sometimes it is cheaper to replace floor mats and rugs than it is to clean them, especially if stains are set deeply into the fabric.
Spring-cleaning for the exterior of the vehicle should include:
A good hand-wash is recommended for the exterior of your car and make sure that a paint-protecting wax is applied after washing. It's good to remember that it is best to use a soft towel to dry your car, rather than allowing it to air-dry. This prevents streaking and any harm that left-over soap can cause to the paint. Always use a soap that is specifically made for cars.
Scrub tires, rims, and hubcaps with a different sponge than the one you use to clean the rest of the vehicle. The tires are often the dirtiest, grimiest part of the car, so for that reason, clean the tires last, so as not to spread unnecessary dirt and debris to the rest of the car. Tires may also have particles on them that could scratch the paint on the rest of the car, so always remember to wash the car and tires with separate water and sponges.
Remember to check the undercarriage of your car for debris left over from the winter season.
AV Bumper to Bumper encourages vehicle owners to maintain the cleanliness of their vehicles inside and out. Check oil and fluids on a regular maintenance schedule, and if any repairs need to be done after driving in the winter weather all season long and the holidays, we are well qualified and ready to serve you.