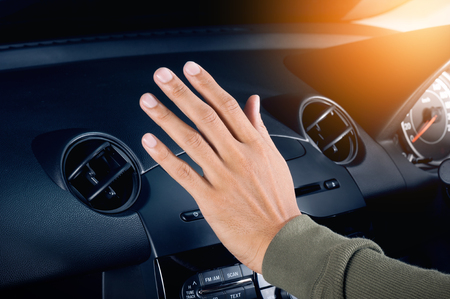 When the air conditioner in your car stops working in the spring or summer, you won't want to spend any time driving around. Sure, you can try to cool your car off by rolling the windows down. However, that's not going to cut it when it's especially humid outside. You'll need to have your AC fixed right away to make the inside of your car comfortable again. Here are a few reasons why your AC might be on the fritz.
The refrigerant in your car's AC is leaking.
To keep your car cool, your car's AC relies on refrigerant. The refrigerant circulates through your AC system to keep cold air pumping through your vents. Nevertheless, every now and then, there will be a leak in your AC system that'll cause refrigerant to leak out. It often happens within your AC system's hose connections. You'll need to have a leak fixed to get your AC running right again.
The condenser for your car's AC is blocked.
There is a condenser in your car's AC that's designed to cool off warm refrigerant after it passes through your AC system. It works by using the air that comes in through the front of your vehicle while you're driving. However, the airflow can occasionally get blocked by a piece of debris that has flown up from the road, and when that happens, the condenser won't be able to cool off your AC system's refrigerant. You'll need to remove the debris to allow your condenser to get back to work.
The compressor for your car's AC is bad.
Your AC system has a compressor in it that keeps refrigerant moving throughout your AC at all times when it's turned on. If the compressor isn't used for long periods of time, it can go bad and stop working. This will cause your AC to produce nothing but hot air. To prevent your compressor from going bad, try turning your AC on every few weeks, even during the winter. It'll help your compressor last longer and keep your AC as a whole in better shape.
Has your car's AC stopped working all of a sudden? AV Bumper to Bumper can provide you with the air conditioning repairs you need to fix it. Call us at 661-949-1999 today to schedule AC service.